If you're making the switch to lightweight backpacking, one of the easiest ways to decrease weight is to get a new tent. Yes, it can be hard on the wallet but it can make a big difference.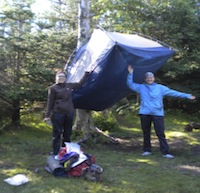 So here are some things to consider.
When do you intend to use the tent?  It's hard to get a tent that's suitable year round in any condition but also lightweight. But if like most of us you're mainly thinking of backpacking during the spring, summer, and early fall,  you don't need the heavy duty, double wall 4 season tents. A good three-season tent can be quite lightweight.

How much do you want to pay? The hardest part is balancing the weight with the price.  Unfortunately the lightest weight tents are usually the most expensive.  That being said----any solo tent that is 3 pounds or lighter is a good tent and often you may be able to find a really good deal in a very unexpected place.  I found a Eureka Spitfire on sale at Gander Mountain one year for $50.  The tent weighs in at 2 lbs 12 oz and is a great little tent!

Be aware that occasionally the tents come in pieces.  For example, the top and the floor may be sold separately.  Not many are like this but there are a few, and when you first look at the specs, they may seem really lightweight. But in actuality there is no floor and often no rain fly so they would need to be added.

What kind of shelter do you want? Tents aren't the only option. There are basically 4 types of shelters:


Tents  These have enclosed sides, floor, and a rain fly. There are 2 types of tents.   


Freestanding, which means they do not require stakes to set up and are 'stand alone' type shelters  These shelter are usually the easiest and fastest to set up.
Non-free standing which means they need to be staked out to stay erect.  These tents take a bit more 'practice' to set them up quickly.

Tarps These are really just a big rectangle of fabric that you set up as a shelter.  This is actually fun to do but does take practice.  Tarps are not generally completely enclosed shelters and do not have a floor.
Hammocks  Yes, they are hammocks but they are completely enclosed (with mesh), rear entries, and a rain fly.  
Bivy Sacks   This is a waterproof, breathable 'tiny' tent that is just big enough for you, inside of your sleeping bag.  There is a structured part of the bivy sack that elevates the fabric from about your chest to over your head.  These structures fit closely around the sleeping bag and there is no space for gear or sitting up.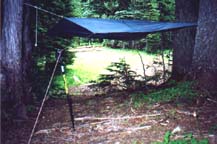 What features do you want? There are a lot of really cool features that come with some tents.  However any feature is usually going to add weight, so a really good lightweight backpacking tent is pretty devoid of features. If the tent you end up purchasing does have extra features (such as gear lots, extra ties, extra loop, etc) you can eliminate them and reduce the packed weight of the tent.

Additional things to consider when purchasing are the following:
how do you get in and out
how much head room is there
same for foot room
make sure that you 'fit' in the tent.  Not all 1 person tents are created equal!
is there room for gear in the tent or is there a vestibule (this is not a necessity)
how easy is it to set up
what kind of rain fly is there
are there mesh panels or vented flys for ventilation to reduce condensation? Condensation is created by breathing inside the tent, which warms the air. When that warm air hits the sides of the tent, which are exposed to the chiller night air, the moisture in the air condenses out. Keeping this to a minimum reduces the moisture build up inside of your tent and keeps you and all your gear dryer. 
Below is a list of great websites and tents.  Each has a bit of a different twist on design and set up but these are definitely the lightest 1 person tents out there right now.  A couple of the websites for the tents also have other lightweight gear as well so I'll tell you from experience it's really easy to get sucked in and end up spending lots of time 'looking'!  

1.  My personal solo tent is a Tarp Tent and the model is the Contrail, weight 24.5 oz. They have another tent that I am hoping to purchase shortly----the Sublite at 19.5 oz

2.  http://www.lightheartgear.com/    A great website---business is owned by a woman who designs and makes all the stuff.  (although I think she is now into production)  Her tent, Lightheart Solo Standard, is 24.5 oz and a beautiful tent.  A bit pricy but good tent! She also has a Cuban Fiber LightHeart Solo  tent (the newest fabric on the lightweight market and usually quite expensive)  

3.  Six Moons Designs can be found at http://www.hikelight.com/shelters.html Their Six Moon Designs Lunar Solo is 23 oz . They also have a cuban fiber one at just 15 oz.  

4. REI  They carry several mainstream tents.  The following weigh in at 3 pounds or just a bit under and are excellent tents as well.  

REI quarter dome  (excellent value and can be under 3 pounds) 
hubba by msr
northface Mica
NEMO (unique structure---air filled chambers are used for supports) 
Big Agnes
Marmot EOS


5.  Finally----another type of shelter that many really like is the Hennessy Hammock.  These are very lightweight and only require 2 trees for set up.  You can see the Hennessy at www.rei.com